Professor Hillol Bala has visited the eHealth Research Institute from Mar. 25th to 29th. Hillol Bala is an Associate Professor of Information Systems, the Fettig/Whirlpool Corporation Faculty Fellow, and the Co-Director of the Institute for Digital Enterprise (IDE) in the Kelley School of Business at Indiana University, Bloomington. He received his Ph.D. from the University of Arkansas. His research interests are IT-enabled business process change and management, IT use, adaptation and impacts, and health IT. His work has appeared in premier academic journals, such as MIS Quarterly, Information Systems Research, Management Science, Production and Operations Management, Journal of Management Information Systems, Journal of Operations Management, Decision Sciences, Information Systems Journal, The Information Society, Communications of the ACM, and MISQ Exeucitve.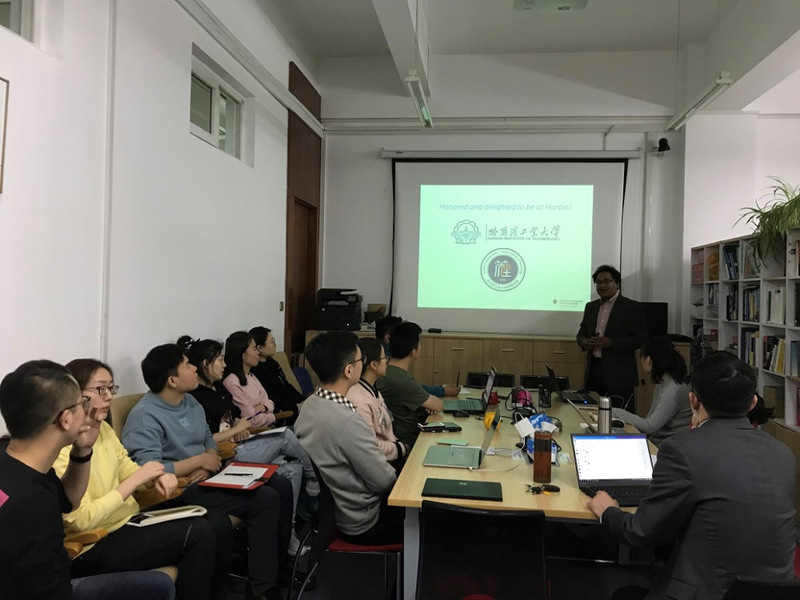 On 26, Mar 2019,Hillol Bala presented his research "It Takes Two To Tango: The Effects Of Internal And External Information Integration On Healthcare Process And Outcomes" in the eHealth Research Institute. This studyexamines the effects of information technology (IT)-enabled information integration capabilities on healthcare organizations' clinical process execution performance and subsequent patient outcomes. During the presentation, a lively discussion was held between Hillol and the members of Institute.

In addition, In addition, Professor Hillol Bala had some discussion with some members of the eHealth Research Institute one by one on 27 Mar. Professor providedin-depthguidanceon the topic to them.Professor Bala said he had a good time in Harbinandislookingforward tofurther collaborationwith the eHealth Research Institute.